ThermalPass
NEW HOPE DATA
A Joint Venture between AI Labs and Commersive Solutions
Medical Grade Fever Detection System
Provide a safer environment for your customers, tenants and employees while acting as an ambassador in the overall fight against the spread of the covid-19 virus.
How It Works
Thermalpass is a non-imposing, unobtrusive system that blends into its environment while identifying potential at risk carriers. It detects body temperature using its touchless, infrared, thermal medical grade sensors. ThermalPass is built for easy assembly and mobility. Its sleek and modern engineering is designed for minimal disruption while taking accurate thermal readings WWW.THERMALPASS.COM FOR INQUIRIES EMAIL INFO@THERMALPASS.COM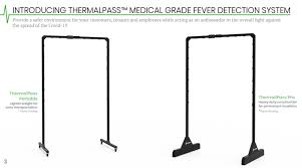 New Hope IoT Intl. Inc is a joint venture partnership between ITT and New Hope Group subsidiary Shanghai New Hope Data Technology Co. Ltd. for distribution in China. New Hope Group is one of China's largest privately-owned entities, with more than 600 subsidiaries and nearly 70,000 employees. New Hope Group is involved in a wide range of sectors, from agriculture and real estate to infrastructure, chemical engineering, finance and insurance.
New Hope IoT Int'l. Inc. aims to become one of China's top 'intelligent plant' big data platform operational service providers. We focus on data monitoring and analytics by means of professional consultation and manufacturing process optimization in order to transform traditional manufacturing operations into advanced, 'smart' industrial Iot facilities.